Our NEW STUDY started Wednesday, January 11. We'll be going through the book of 1 Corinthians, following material from the book, The Message of 1 Corinthians by David Prior.
The first Wednesday of every month we forego study and spend the entire meeting in prayer.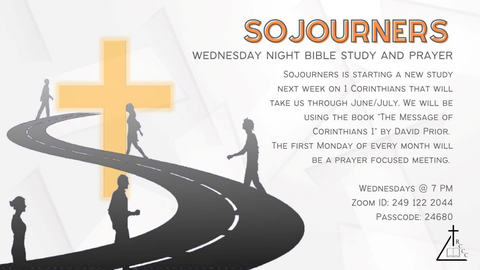 Join your fellow Sojourners for a mid-week pause to focus on abiding with God, growing in our understanding of His Word, and sharing our ideas and lives through discussion and prayer. New to the church or been attending for years? Our group is always open, whether you can join every week or only make it now and then, we welcome you into our community.
Study begins at 7:00 and we transition to prayer around 8:00. Meetings are held on zoom. (Meeting ID: 249 122 2044 Password: 24680).
Have questions about the study or looking to connect with the group? Please contact Katelin Bartley (katelin.bartley@gmail.com).