Our next community night is Friday, February 17 at 6:30 pm. Join us for Dinner at Chipotle at Park West Village. All are welcome. Please contact deacon Paul Chan with any additional questions at pkbchan@gmail.com.
Past Community Nights
Sunday, January 22 Farewell Potluck for Pastor Chang at 5:00 PM in the 5-Flex.
Sunday, December 11 Christmas Cantata 10:00 a.m. Fellowship time following program.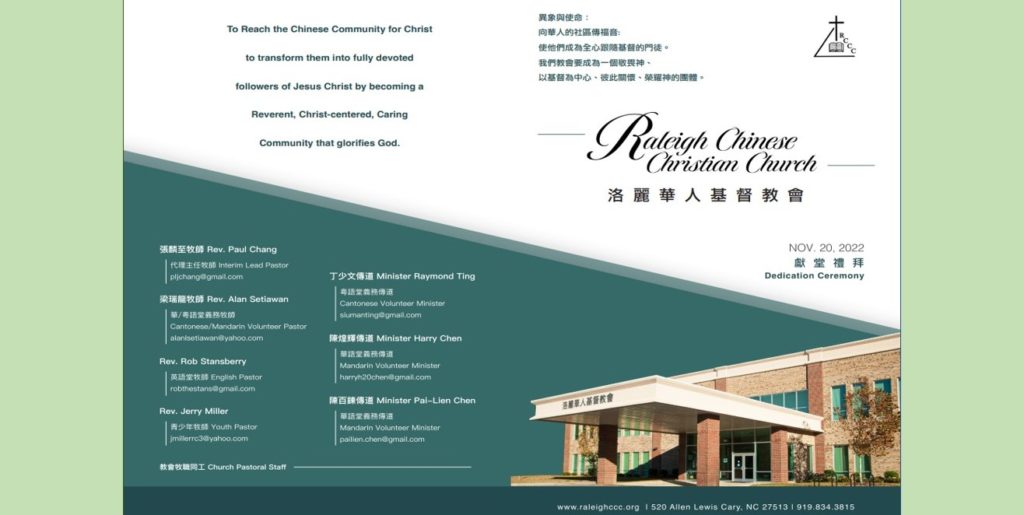 Sunday, November 20 New Building Dedication. Lunch after service at 12:30 p.m. , followed by the building dedication at 1:30 p.m.
Monday, October 31 Fall Festival. Food, games, prizes and fun for the whole family in the old building.
Friday, September 16 Sports, Board Games & Build-your-own sundaes in the old building.
Friday, August 5 Game Night in the Library
Friday, June 24 at 7:00PM at Sanderson High School (5500 Dixon Dr., Raleigh). The Raleigh Community Orchestra Concert will be playing a musical "A Salute to Freedom". Our very own Pastor Rob is part of the orchestra, celebrating America's birthday.
Details and to purchase tickets, go here: https://raleigh-community-orchestra.ticketleap.com/freedom/dates/Jun-24-2022_at_0700PM
Friday, June 3 Screening of Sabina Tortured for Christ 7:00-10:00PM in the sanctuary, with refreshments to follow